We help individuals and organizations become more detail-oriented to reduce errors, increase productivity, and improve overall performance
We currently offer the following training to help individuals and organizations improve their attention to detail:
Event or In-house Attention to Detail Workshops
Seminar (schedule TBA)
Call (832) 301-6075 or contact us online if you are interested in Attention to Detail Training.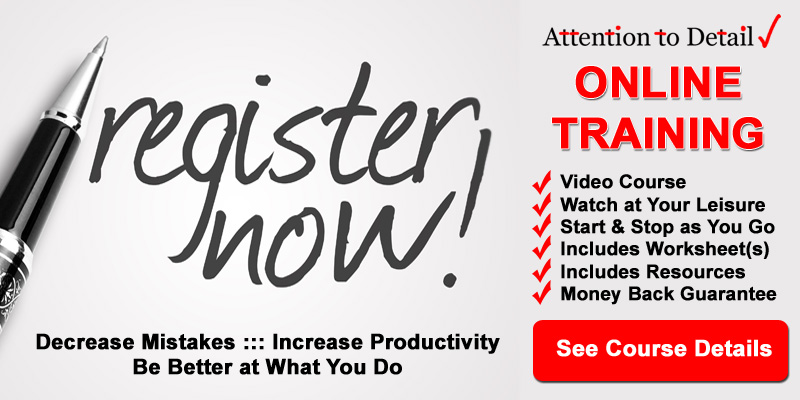 In-House Attention to Detail Training Workshop
Improve the accuracy, thoroughness, and overall productivity of your workforce with this 3 to 4 hour Attention to Detail workshop.
The in-house "corporate" workshop is designed to help both individuals and the organization become more detail-oriented. Workshop attendees gain a solid understanding of attention to detail, the costs associated with low attention to detail, the five fundamentals of attention to detail, and how their individual attention to detail (or lack of it) impacts their own work and success as well as that of their coworkers, customers, and other professional relationships. Discussions, exercises, and lessons are delivered within the context of the organization and how to impact overall productivity.
Additional Info: 
Materials & exercise booklets are provided
May be delivered wherever you choose
If you are interested in an in-house workshop for your organization, call 832-301-6075 or complete the form below or go here for more info.
Online Courses for Attention to Detail
We are excited to announce that online courses are now available online. 
Our online courses and training are meant as the replacement of our 1:1 training so it can be offered at a much lower price. Additionally, you can take the course(s) at your own convenience. The content of the courses is primarily focused on helping individuals improve their attention to detail in the context of workplace applications and creating a more focused, efficient, and qualified workforce.
If you need to improve your attention to detail at work, our courses are for you.
To enroll in a course, go here. Online courses are on our main site, AttentionToDetail.com.
Seminar — TBD
In the works but it will be a while — 2018 at best. A 2 day event with guest speakers in multiple specialties.
Contact Us for Attention to Detail Training
To sign up for training, get more information, or just ask a question please submit this secure form.